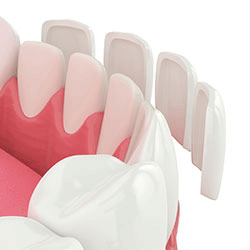 Would you like to improve your smile permanently, without any painful processes? Our dentist near Gurnee is pleased to offer Lumineers as an alternative to traditional porcelain veneers. Lumineers take less time to prepare, are less expensive, and preserve more of your natural teeth. This type of veneer provides a way to conceal stains, chips, discoloration, and misaligned teeth by covering your actual teeth with a layer of tooth-colored laminate material.
Easy and Pain-Free
Because Lumineers are as thin as a contact lens, their application requires little to no tooth reduction, and no anesthetic is necessary. Your Lumineers will be bonded to your teeth and set in place with a powerful curing light. Because the process is significantly less invasive than with traditional veneers, Lumineers patients find that they immediately enjoy their new smiles without any post-procedure discomfort or sensitivity.
The Process
In most cases, the process of acquiring new Lumineers can be completed in just two visits. The first visit will include a consultation in order to determine what your smile goals are. Your dentist will then create molds of your teeth so that your Lumineers can be made to fit your existing teeth perfectly. Once your Lumineers are ready, we will schedule a follow-up visit with you to apply them for a smile worth showing off. Our dentist near Gurnee will also check your bite to make sure that the fit will not interfere with daily activities.
Will They Damage My Natural Teeth?
Unlike traditional veneers, Lumineers are considered semi-permanent, and they are much less destructive to your natural set of teeth. While light etching of the teeth may be required in order to get a secure hold during the bonding process, patients who choose to remove their Lumineers will find little to no damage done to their natural set of teeth.
Beautiful Teeth That Last
Here's some news that coffee, tea, and wine-drinkers will love: Lumineers are non-porous and therefore impressively stain-resistant to help keep your new smile shining bright. Lumineers are notably durable and bright without looking unnatural—the shade of naturally beautiful, bright teeth. DenMat®, the company that makes Lumineers, offers a five-year warranty on its veneers, and their clinical trials show that Lumineers can last up to 20 years.
Take control of your smile and ask us whether Lumineers is a good choice for you. If you're looking for a dentist near Gurnee, reach out to our office to set a date for a Lumineers consultation.