Discover The Gurnee Invisalign Dentist
There's not a one-size fits all solution to straightening your teeth, which is why traditional metal braces are not for everyone. Our orthodontist with Excellence in Dentistry provides just as much personalized oral health care to patients looking to opt for Invisalign instead.
Orthodontic treatments take months, if not years, to completely form your misaligned teeth into a beautifully straight smile. While clear aligners can take nearly the same amount of time to work, you won't have to worry about the clunky appearance or food restrictions that come with regular braces.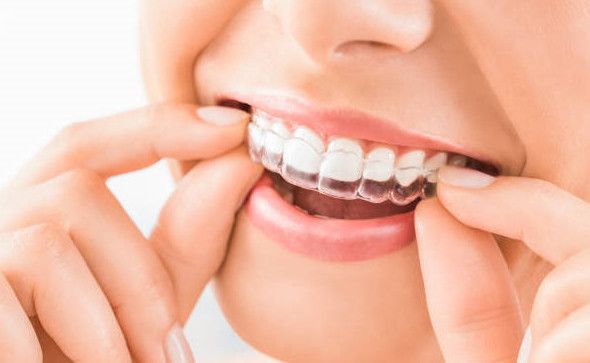 What Is Invisalign?
Invisalign consists of clear, plastic orthodontic molds that will subtly move your teeth into a desired position.
Just some of the benefits of choosing Invisalign over traditional metal braces include the following:
No limitations to what you can eat and drink, since the aligners need to be removed before you do either.
You don't have to worry about white spots or discoloration on your teeth, which can appear as a result of wearing metal braces.
Invisalign's clear aligners are so subtle that they're hardly noticeable by others.
No special care is needed to clean your teeth, and the aligners are also easy to clean.
How Do Clear Aligners Work?
Compared to traditional braces, an Invisalign treatment works subtly to straighten your teeth. Your initial appointment for Invisalign will consist of an analysis of your current smile, using computer imaging technology. Once that's complete, you can expect your clear aligners to arrive at our office in roughly a month.
You'll need to wear your aligners for approximately 20 hours per day for them to work as efficiently as possible to straighten your smile. Our orthodontist and staff will monitor the rate your smile begins to shift into place through check-ups and X-rays.
The aligners are removable so you can eat and drink freely. Because there is a lack of dietary restrictions, it's just as important to maintain good oral hygiene routines.
You'll need to brush and floss your teeth daily in addition to cleaning the aligners as well. If you consume a drink or snack that can get lodged in your teeth or weaken the enamel, then you should also consider lightly flossing or brushing your teeth about 30 minutes afterward.
It's also important to note that you will replace each aligner every two weeks, so your teeth can continue to shift into the perfect position for a flawless smile.
Schedule Your Consultation In Gurnee, Il – The Invisalign Dentist
If you are looking for a dental practice in Gurnee with Invisalign or a clear braces treatment, look no further than Excellence in Dentistry. From the moment you set foot in our office for your free consultation, our staff will take note of each smile goal you're looking to achieve.
We understand how traditional braces aren't the first choice for many patients, since they tend to be clunky and require careful maintenance when eating, brushing, and flossing. With a removable set of aligners, our practice will provide the same extensive amount of care as we do in our other orthodontic treatment plans.
Receive the perfectly beautiful smile you've always wanted, through the subtlety of Invisalign. Please contact us to schedule your free, no-obligation consultation with our practice.