Receive Dental Digital X-rays in Gurnee, Il
For well over a century, both dentists and doctors have used x-rays to diagnose and treat their patients' issues.
In our dental office, our digital x-rays use electronic sensors, along with very small bursts of radiation and computer technology to make very precise images of your teeth and gums.
Rather than being printed on film, the images produced using digital x-ray technology are projected onto a screen where they can be viewed by both the dentist and the patient. Through this process, we can get a clear image of your mouth well below the surface of your teeth and gum line.
Getting X-rays at least once per year will help your dentist detect any underlying issues with your oral health, including gum disease, cavities, and tumors.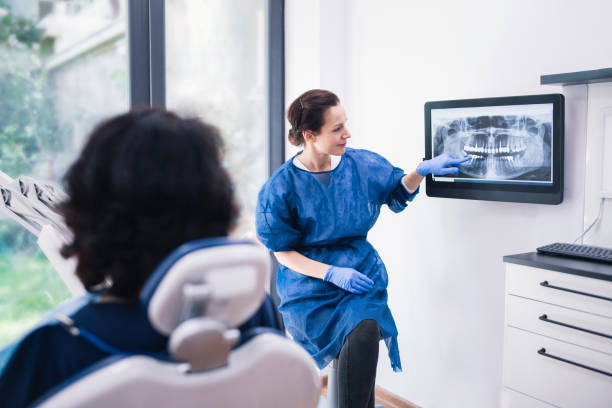 The Process Of Getting Digital Dental X-Rays
The procedure is very similar to that used in taking a traditional x-ray of your teeth and gums in a hospital setting. The dentist will insert a small sensor into your mouth and take what is known as a digital radiography, which captures precise images of your teeth, gums, and jaw bones. These images are sent to a screen for immediate viewing by the dentist and patient in the treatment room. Unlike the x-ray process in a hospital setting, there is no need to wait for your x-ray film to be developed.
The Advantages of Using Digital X-Ray Technology
There are several advantages to using x-ray technology in a dental practice. Just some of these including the following:
Accuracy – Once the digital image is projected on-screen, it can be magnified, enabling very close examination of any areas of concern. The magnification of images makes it much easier to spot smaller cavities and other problem areas that might be missed using traditional x-rays.
In addition to magnification, resolution is much better with digital imaging. A traditional x-ray can only project images in 25 different shades, while digital images can pick up variations of up to 256 shades of gray.
Patient safety – With traditional x-rays, patients are exposed to only minute amounts of radiation, and the exposure is even less with digital x-rays. Using digital technology, radiation exposure is reduced by about 90 percent for both dentists and their patients.
Convenience – If, for example, a second opinion is needed from an outside dental specialist, the images can be transmitted immediately to them via email. And if our office needs to review images taken earlier, they can be instantly retrieved online, without having to comb through hard-copy files looking for old film images.
How frequently are digital x-rays needed?
The short answer to that question is that the need for x-rays will vary from patient to patient. The frequency that you need x-rays entirely depends on your medical and dental history.
For example, if you are a patient at high risk for some form of dental disease, our office may recommend x-rays more frequently for you than for a patient not dealing with these issues.
On average, a patient will receive dental x-rays at least once per year.
It's also possible you may need an x-ray at another time, such as after suffering a dental injury or toothache that requires urgent dental imaging. This can help us determine a diagnosis and treatment as soon as possible, so you can receive relief.
Discover The Family Dentist of Gurnee, IL
Your safety and dental health are very important to us.
While digital x-ray technology is incredibly safe, we believe in going the "extra mile" at Excellence in Dentistry. Our practice uses state-of-the-art safety equipment, including lead aprons and thyroid shields to keep you safe when we are taking digital x-rays.
You can be assured that at Excellence in Dentistry, our patients' safety and comfort will always be our primary concerns.